Yoga as a mental health intervention
Where does the mind meet the body? This question has been swimming in my head since I moved east of the Anacostia River in 2004. I've been teaching yoga for six years, at over 10 locations and to over 300 students. I participated in more than 7 yoga teacher training intensives. I blogged over 150 articles and recorded two yoga DVDs.  I've met amazing people, participated in innovative programs and established life-long friendships. But I still see huge voids in long term health changes. Specifically in the mental health of residents east of the river.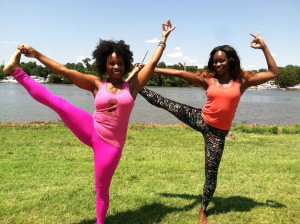 Yes we have witnessed grassroots health changes.  Yet, I have come to accept that my mission to share the power of yoga east of the river must take a different path. I  admit that I suffered from a savior syndrome in my community. My passion for health coupled with my personal experiences turned me into revolutionary health renegade. We have more yoga health resources for preventive physical health but still lack culturally powerful interventions for mental health. Where can you go if you are depressed, angry, anxious or moody? The yoga mat has been a place where many people find a neutral space. But we still don't have qualified experts in our neighborhood to help the everyday person dealing with life's challenges.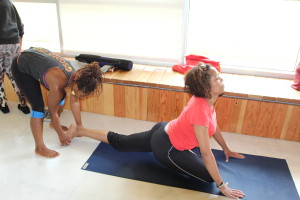 Yoga is not Enough
I quickly learned that transforming health in Anacostia would require more than weekly sun salutations or monthly blog posts. People needed more in depth interventions. People needed more sustainable health resources, knowledgable instructors, welcoming health centers and a political will  to create long term health changes. After class some students wanted to talk more about what they were feeling or how much more balanced they felt. Yoga has the power to open up a deeper awareness and it is important to have help along the way.
Therapist as the Guru?
In the yoga tradition, gurus served as the wise and stable advisor to many yogis who sought more support through their practice. I often call my yoga teachers for deeper advice. Getting into a pose is one thing, but having someone walk you through getting through the emotions of a pose pull back the layers and fear that accompany the healing effects of yoga.
Journey into Mental Health
When I started this journey in 2009, I knew that yoga had the power to shift the health of the community. The yoga system is so robust, yet so affordable and simple.   The health issues were ignored and undervalued. There was no good reason that black health disparities were so vast in a wealthy town like Washington DC.  So I took action. There are many people along the way who supported me, funded a shared vision and grew the mission beyond just rolling out a yoga mat.
From Conversation to Collective Action
What started off as a conversation over sweet potato fries with my friend and artist Amber Robles Gordon turned into our first yoga program for youth in Anacostia. 

We received financial support from the Far Southeast Family Strengthening Collaborative, DiversCity Fund, DC Social Innovation and the Center for Disease Control. The money helped me to host retreats, launch a series of training DVDs, videos and yoga workshops that have helped grandmas to grandkids.
The Media Storm
But the big shift came when Vicky Hallet of the Washington Post kicked off  a media tidal wave. Her article elevated the conversation of health in the hood resulting in MSN  profiling the emerging growth in Anacostia.
From this media storm, I received letters from men in prison wanting support for meditation. I have met amazing, supportive, encouraging and loving neighbors who have become my friends and shoulders to lean on. We even featured a series on DC TV. 
I realized that my naïve and somewhat egocentric mission, to create a holistic health culture east of the river, did not begin or end with me.  There were residents like Melvin Deal, Sean Smith, Misty Smith, and John Glosser who'd been toiling the ground for years. Collectively, I began to feel excited to see the vision for  holistic health in Anacostia take shape.
 Now we have a cleaner Anacostia river, a bustling Farmer's Market at the Arc, Whole Foods Market at St. Elizabeth's, the new Community Wellness Center at the Anacostia Arts Center, Go-Go Fitness, Patrice Jones boot camp, and African cooking workshops. All of the time, energy and lip service by the community has finally manifested into real change.
Content with Completion
At this point, I feel confident that my mission is accomplished to spread the power of yoga in Anacostia.  Luckily, the yoga journey never ends. My journey as the "Anacostia Yogi" has not come to end. But it is time to venture down a new road.  There is always a part of me that wants to remain relevant and involved.  I am now studying for a  Counseling PhD at The George Washington University!  My dream is to apply this knowledge to open an innovative healing space the fuses modern counseling  with the ancient system of  yoga.
Soul of Service
For the past 5 years, I have been a seva yogi and a practitioner of service.  I can walk away from my experience in Anacostia knowing that I gave my everything to creating a new conversation for self-directed health in our communities.  The next level is chart a new approach toward health that includes culturally relevant  mental health interventions.  Look out for new videos, new meditation downloads and new perspectives on raising the quality of health services for communities like our little village east of the Anacostia!
Thank you to the collective who are reshaping health east of the river. I love you!
Zaccai Free, Dave Gould, Maya Breuer, Faith Hunter, Erika Richardson, Amber Robles Gordon, Sean Smith, Darius Graham, Melvin Deal, Nikki Peele, Vicky Hallett, Maceo Thomas, Veronica Davis,  social activists in Ward 7 & 8, REEL Health, Aisha Hughes, Black Women's Health Imperative, GWU GSHED, DC Social Innovation, Linda Lang, UDC, Faith Hunter, Wanakhavi Wakhisi, Michanna  Murphy, Gopi Kinnecutt, Yirser Ra Hotep, Alicia Gill,  Jessica Solomon, The Feminist Wire, Jesse Fenty, Tano Mazi, Dr. Lisa Fitzpatrick, Khadijah Tribble, Corey Morgan, St. Elizabeth's Campus, Tendani Mpulbusi, JoAnne Hawthorne, Tika, Taheera, Candice Renee, JoAnn, Tiffany, Ty, Jada, Yvette, Arnyell, Marion, Stephen and Ashley and all the other people who supported a yoga class by attending, donating or offering an encouraging word.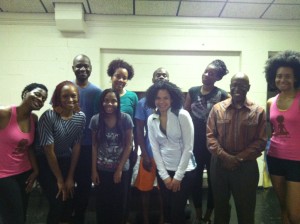 This post is in celebration of National Yoga Month and National Mental Health Week! Share your story of how yoga matters! 
Come check out my last semester of yoga classes The Washington Ballet at The Arc on Mondays at 7:15pm!
Sponsored by MPH@GW Public Health