A Yoga Retreat Should Be On Your List of Resolutions This Year!
Written By Guest Contributor Rachel O'Conner
Photos of 2016 Black Yoga Teachers Retreat by Malaika Brooks Smith Lowe
If there is one thing to genuinely follow-through with this year, let it be the action of focusing on yourself. Life is a series of everyday habits, heart-swelling fits of laughter, and unexpected moments of loss and pain. We can all agree to that.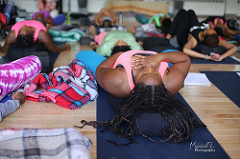 Regardless, if you do yoga daily, or are curious about what it has to offer – hopefully, a yoga retreat can find its way onto your list of resolutions. But instead of being a long-term goal that requires consistency, a yoga retreat offers an impacting couple of days that can set the tone of a year in a very promising and assuring direction.
1. Yoga retreats gives you a moment in this frazzled life to meditate on yourself
How often have we told ourselves "I can do it later" for the things that really matter, like taking the time to relax? Let's start here: you are so important, and you deserve to give yourself a physical and mental health break on life, especially when it happens to be designed like a crash course in real time. Yoga retreats encourage you to take time for yourself and reflect on everything that is happening in your life. Wouldn't that be great: feeling that you can actually take stock of your life and think about how to move forward with it?
2. The separation from everyday life detoxes the soul
With success, the influence of relationships and friendships, and outside opinions, it can be difficult to distinguish what beliefs and feelings belong solely to you. Believe me, it's very easy to get caught up. By separating yourself from everyday life, you can confront feelings and thoughts that frankly might not have had the time of day in a busy schedule.
3. Travel broadens perspectives on life, the world, and yourself
While a yoga retreat in your hometown will still provide benefit, a retreat outside the city or even in a different country can act as a catalyst for opening your eyes to incredible perspectives. We become comfortable with the way our lives are lived, and can be become absorbed in its motions and develop unnecessary self-centeredness. A deeper understanding about other cultures and the current world makes us more aware and appreciative of our lives.
4. Your yoga practices is strengthened on both a physical and emotional level
During retreats, practicing yoga every day is always a part of the curriculum! Not only are you consistent with your practice, you are under the guidance of instructors and fellow yogis to push your body to new levels. At an emotional standpoint, the time taken to reflect on life also leads to the question of why you love and practice yoga so much – to relax and destress from everyday life of course! Sound familiar?
5. Kick-starting a long-term healthy eating habit!
The food served at a yoga retreat nourishes your body, no question or doubt. If you aren't eating healthy, the retreat shows you the world. Meals can be simple and lovely, or outright luxurious depending on which retreat you choose to go on. Regardless of wherever you go, the food is guaranteed to make you as happy as the time spent alone.
6. Not only do you build a deeper relationship with yourself, you are able to connect with the same like-minded people around you
While making friends on a retreat isn't exactly a priority, you might surprisingly connect with others. Everyone has their reasons for taking the time to attend a yoga retreat, just like you. Spending a weekend away from everyday life is healthy, and you can definitely say that you're all on the same boat.
7. You return home more self-aware and understanding
Don't expect yourself to be a completely different human being. It isn't a bad thing being the same person coming home – you're comprised of all these wonderful qualities that make you, you! But hey, if you are a completely different person, more power to you! The impacts of yoga retreats are different for everyone. But if you could have taken away one thing, let it be the fact that you have truly immersed yourself in a place of time dedicated to bettering yourself and seeing this beautiful world in a new way.