No such thing as a stupid question… BUT….
People always ask me the same annoying question about yoga: "Will yoga help me lose weight?"  I always answer back with an annoying answer, "Yoga goes one step further. Yoga will help you figure out what is causing the weight gain."  I know because I have been there.
After experiencing a stressful home purchase while writing a graduate thesis, I gained as much as 15 pounds!  First came the stress, then came the junk food, and then came the fat.  Yoga helped me get at the root of the weight gain, which was my habit of taking on too much!
Even though I teach yoga, I fall prey to stress. But I also know how to combat stress.  I want everyone to walk out of my classes feeling that health is not just about weight loss. It is about gaining back your body. True weight loss starts in your mind and in your heart. The best thing yoga can do is prove to you that you can change your life on your terms. That includes losing weight.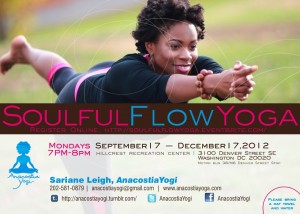 Getting Behind the Fat
We live in a "hit it and quit it" culture. People want plastic surgery to slice away all the physical memories. Some people want the fast detox to empty out all the internal turmoil. Others want to exercise their bodies into injury to hide behind the pain. Sure, these methods help you lose weight, but they don't help you lose the heaviness buried deep inside. No amount of exercise, food or diet fad can change your body if your heart and mind are not ready.
WHY YOGA?
Yoga is one of the ONLY wellness practice that addresses the whole body as a complete being. You won't hear me talk about doing more exercises or extreme eating. You will hear me talk about shifting your heart and expanding your mind. I know that when your mind and heart make that first step, your body will follow.
DON'T ASK ME! SHOW YOURSELF!
So please stop asking me if yoga will help you lose weight. Ask yourself if YOU will help YOU lose weight. Ask your friends and support networks if they will come with you to
my yoga clas
s. Ask your mind and your heart if it is ready to for a major shift! Start  the real journey toward weight loss on your terms from the inside out!!
Soulful Flow Yoga 12-week Series starts September 17, 2012 Register Online here
See you on the mat!
12 week series
Hillcrest Recreation Center
3100 Denver Street SE
Washington DC 20020
Parking on Site
Please bring a mat, towel and water.
All levels are welcomed.